Buxley Now.
Buxley Farmhouse is part of the former Buxley Farm which is located in the county of East Lothian, Scotland. Buxley lies south of the route of the main London to Edinburgh road and railway routes. It is four miles from the coast and two miles south of the town of Tranent.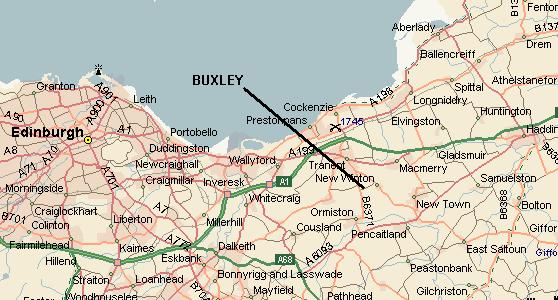 Buxley is 12 miles east of Edinburgh. Edinburgh with a population of around half a million is the capital city of Scotland. The city is famous for its International Arts Festival and after 300 years is once again the home of the Scottish Parliament.
Buxley is eight miles west of Haddington, the county town of East Lothian.
East Lothian is a low lying area of good arable land and was originally an area of mixed farming with considerable numbers of cattle but is now mainly growing cereal and market garden crops. The western half of the county lies within the central Scottish coal belt. The last deep mine closed in the early 90s but several open cast mining sites are still active and a large coal fired power station is operational at Cockenzie.
---