Buxley in our care
During the 20th Century Buxley was farmed by several families the last being the Moffats who farmed until the 1960s. Upon the death of the second generation of Buxley Moffats the farm was put up for sale. Growing scale of farming in the 60's meant that the farm was too small to be viable and so was bought by the owners of the neighbouring North Elphinstone farm and incorporated into that farm.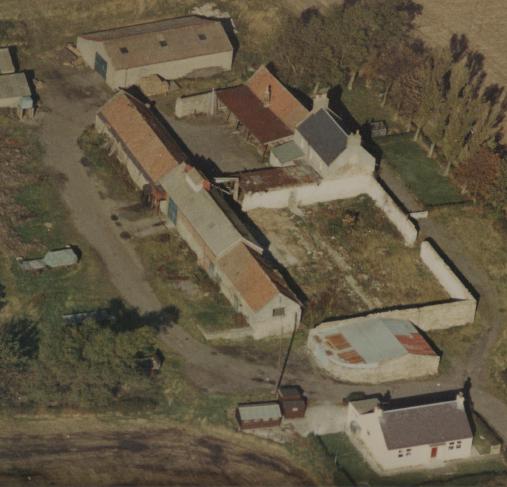 This seventies aerial view shows the decline of Buxley. The large enclosed area below the farmhouse was formerly a cattlecourt the roof of which had blown off in a severe gale in the late 1960s.
During the early Eighties with their son at agricultural college the farmhouse was partially renovated by the Harvey's of North Elphinstone. Plans to semi-retire to Buxley were abandoned following the purchase of a further large farm at Myles and the farmhouse at Buxley and surrounding outbuildings were surplus to requirements.
The property was put up for sale in 3 lots - the farmhouse and surrounding land, the row of sheds and land to the left of them and the buildings at the top and surrounding land.
The farm looked little different to the above view with the exception that the farmhouse had been painted white and the tin roofed lean tos had been removed.
We were looking to relocate to the area from South Queensferry and were interested in the potential of the farmhouse and made an offer for the farmhouse and approx. 0.6 acres of land which was accepted.
---