Our ST1100 Pan.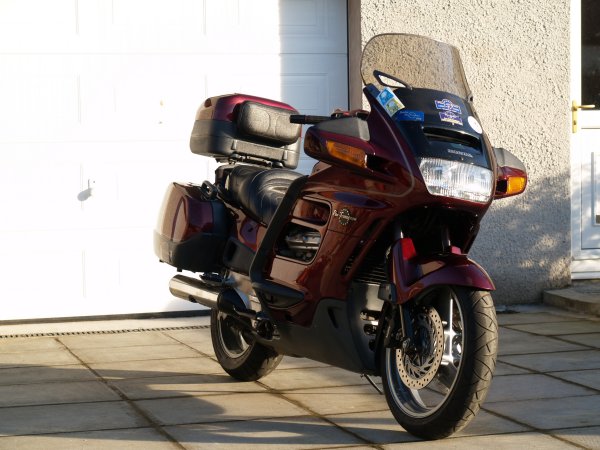 We purchased a 1998 ST1100AW with ABS, TCS and CBS in December 2002. The bike is in "Wineberry" and was purchased specifically for long distance touring.
It had done 35,000 miles and had been "dealer serviced"; hence it required the following problems resolved :
Front axle bolt cross threaded
Rear footbrake pedal pivot almost siezed
Rear brake pads incorrectly fitted
No lubrication on drive shaft splines
The opportunity was taken to replace head and wheel bearings, new rear brake pads; brake and clutch fluids flushed out and replenished and coolant replaced. A complete engine service including shims and carbs balanced finished the job.
The Honda Workshop manual is very specific about the lubricant to be used on the drive shaft splines. This is Molybdenum paste with a minimum molybdenum content of 40%. A visit to the service department of our local Edinburgh Honda authorised dealer produced only blank looks. A search on the web quickly found one of the suppliers listed in the Honda workshop manual and details of local suppliers provided. [Have since discovered the local Honda dealer uses a mix of engine oil and Copperslip!!!!!!!].
The intention was to use it on our holiday in the Alps with Bob Crawley and use the VFR for weekends etc. However having joined the Scottish branch of the Pan Clan we ended up doing 9,000 miles on it in the first year.
Highlights included :
The Pan Gathering in 2003 with a superb Bond Themed dinner
and not forgetting that Alps trip.
In 2004 we used it to go to Sweden with the Pan Clan as well as Plockton and several Pan Clan runs.
The bike when purchased had been modified with the following "extras"
Fairing and mirror wind deflectors (Honda Accessory)
Removable storage wallet mounted above instrument binnacle (supplied by Bespoke)
Honda colour matched top box with pillion backrest by Bespoke
Power outlet for charging mobile phone etc (fitted by previous owner but not fused!!)
Since then we have added :
Autocom Pro intercom with MiniDisc audio feed
CB system for bike-to-bike communication (thanks to Alex Black for his assistance)
Colour matched Baglux tank cover and Rhopongi tank bag
Heated Grips for pillion grab rails (by Gialli)
Alternative Givi topbox (with pillion backrest)
Middleton handbrake (yes a handbrake on a bike!)
New rear numberplate without dealer advert
It has subsequently taken us on trips to Sweden, Denmark, Italy, Switzerland, Austria, Germany, Spain, and Norway before finally at over 63,000 miles being sold in the Spring of 2009.
---

To return to the Buxley Homepage

To find out more about the VFR750

To find out more about the VFR400