Germany 2009
With the 2009 Gathering located in the Harz Mountains on the former boundary between East and West Germany it was an ideal opportunity to explore the southern part of the old East Germany.
This would be the first trip on our ST1300 Pan European and a chance to try out the enhancements including a new Sargent Seat. Pity there is no Middleton Handbrake for the ST1300.
The ferry to Ijmuiden now leaves earlier, arrives later and hence uses less fuel on the crossing. After a calm crossing and a pleasant meal we disembarked and headed for Germany. As we left the coast the temperature rose, hitting 30degC by the German border, and we soon discovered that that Germany's answer to recession busting consisted of a massive programme of road building. However after dropping some clothes off in Braunlage we arrived at our first stop in Weimar.
We spent two very pleasant nights at the Hotel Villa Hentzel just a few minutes walk from the centre of this delightful town.
It has long been a cultural centre associated not least with Gothe and continued to thrive when in East Germany.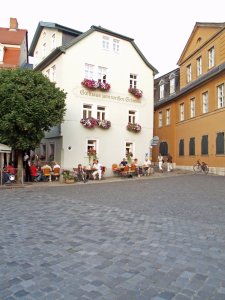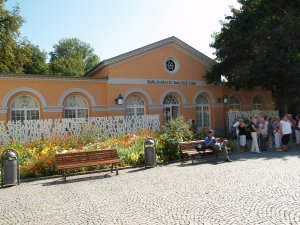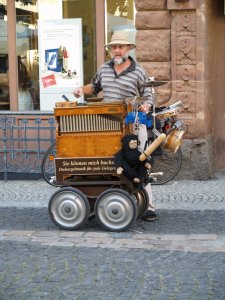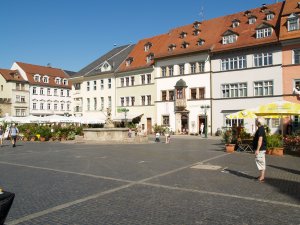 Leaving Weimar behind we continued eastwards with a visit to the famous motorcycle museum at Schloss Augustusburg.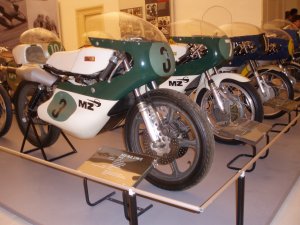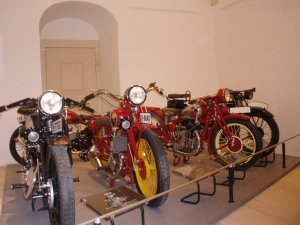 Our second stay was Hotel Berghof Lichtenhain in the Saxon Switzerland National Park, created where the Elbe river has cut it's way through limestone rocks as it heads north towards Dresden.
No trip to the area would be complete without a visit to the viewing point at Bastei or Festung Königstein Fortress which, for obvious reasons, was never attacked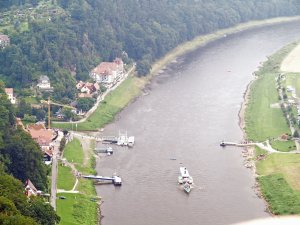 We also enjoyed a cruise on the Elbe on one of a fleet of hundred year old paddle steamers.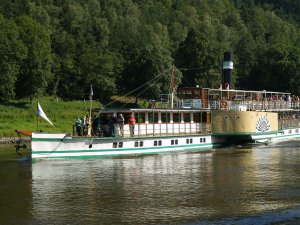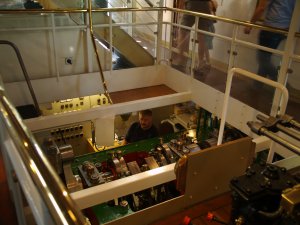 A trip to Zwicklau included a visit to the Horch Museum. August Horsch founded both Horch and Audi in the area, two of the four companies who amalgamated to form Auto-Union using the "four rings" logo now adopted by the post war Audi company
After WWII the factory developed and produced the famous Trabant car. The last version used a VW Polo engine but was not a sucess and was a plant was established nearby to build VW Polos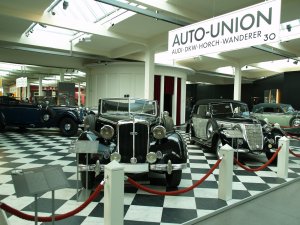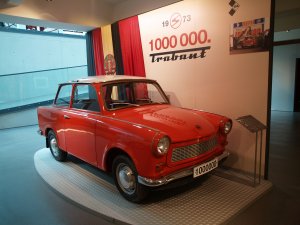 Our third location was at the Rusterhof a pleasant family hotel on the outskirts of Lastau.
A day's was spent touring the area and a day was consumed sightseeing in Leipzig. An interesting mixture of old and new with at least two churches claiming Bach was their Choirmaster.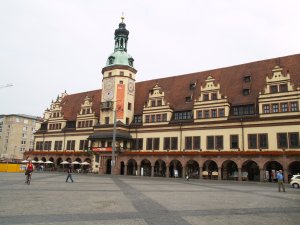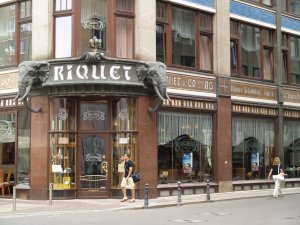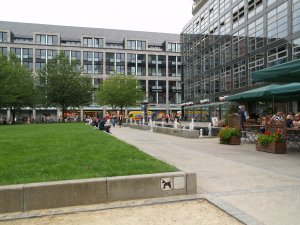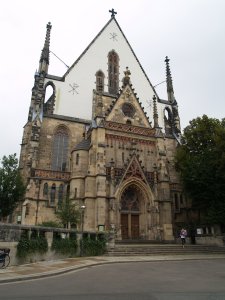 Before leaving Colditz for the Harz Mountains we visited the famous Schloss (Castle). It is currently undergoing a massive restoration project and part has been converted to a Youth Hostel and a further section is being converted to a music school.
The castle has been repainted in white and yellow based on an 17th Century painting of the castle. This has not gone down too well with those visiting the castle because of its WWII history.
Expecting to find only the small museum listed in our guide book, we were delighted top find that this year they have started guided tours led by a member of the WWII museum staff. Our guide Steffi lead us around both inside and outside the castle for almost three hours pointing out the locations of the various escape attempts (successful and unsuccessful) which she then recounted in significant detail.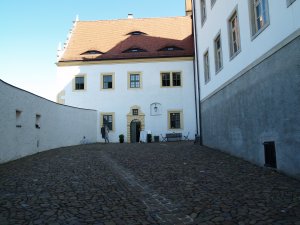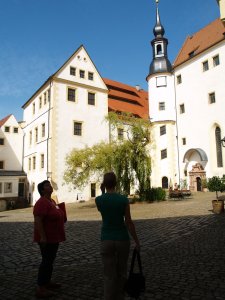 We spent so much time at Colditz we had to ride briskly to the Pan Gathering at the Hotel Maritim in Braunlage, centrally placed for enjoying the excellent roads of the Harz Mountains..
Each evening the hotel laid on an excellent buffet and our hosts included free drinks in the cost.
Our first day was spent on the "Curves" rideout. It certainly lived up to it's name. However some better refreshment stop arrangements would have added to the enjoyment of the day
Our second day was spent on the Wesser tour. Our guide was Michael with whom we had ridden on a tour at the Austrian Gathering in 2007. With a smaller group a good pace was maintained and careful preparation by Michael resulted in excellent stops and a great day out.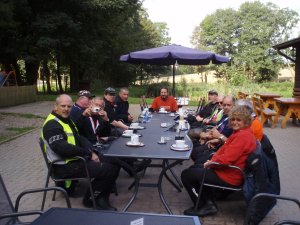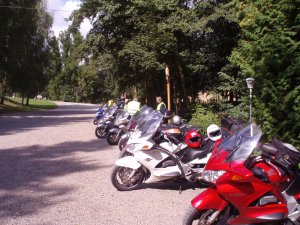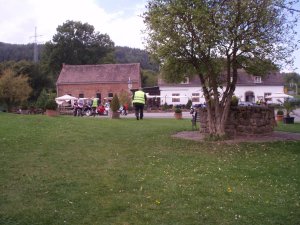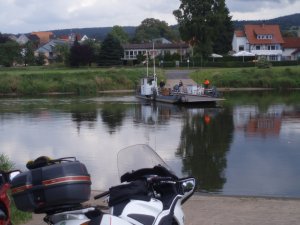 Our third day was scheduled to be the lakes tour, this time lead by Reinhard who we also knew from Austria. Unfortunately a major road closure for another event affected a significant part of the route. After an excellent morning coffee stop attempting to find a detour only resulted in Reinhart's Garmin SatNav throwing a tantrum and trying to take us to our final destination back in Braunlage. A quick confab and we agreed to abandon the route and use Reinhart's local knowledge to take us on a tour of the Harz. A trip to the viewpoint at Ravensberger was followed by a coffee stop in the beautiful town of Stolberg.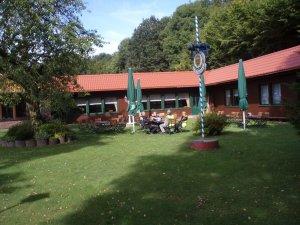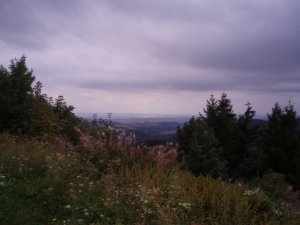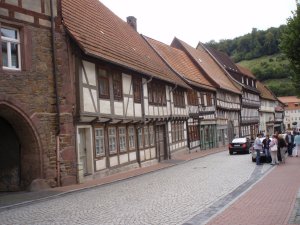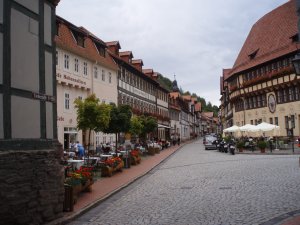 All too soon it was time for 250 Pans to vacate the hotel garage, pack up, say farewells and depart allowing the Maritim to return to normality.
Friendships made, and friendships renewed, will be re-kindled at future Gatherings.
An overnight in Bodefeld allowed us to enjoy a pleasant trip back to Ijmuiden and the ferry to Newcastle. Lunch next day at the Teviot Smokery near Kelso completed an excellent holiday.
---

To return to the Buxley Homepage