Schutzenfest 2006
At the IAM Weekend in the Lakes in 2005 a plan was hatched to introduce "Number 2" aka Ronnie Davidson to the joys of the Autobahn and riding on the other side of the road. This being Ronnie's first biking trip abroad the annual Bob Crawley pilgrimage to the Schutzenfest at Bodefeld seemed a ideal trip. For various reasons in the end only ourselves and fellow Plockton aficionados Alisdair & Mary ended up doing the trip. (Ronnie no excuses for will be accepted in 2007!!).
The group met Bob at Hull and boarded the excellent P&O "Pride of Hull" for an overnight trip to Rotterdam. Once cleared through the formalities Bob lead the group across Holland and to our first coffee stop in Germany. We made good progress and soon arrived at the Hotel Albers in Bodefeld. Bob in his inimitable style arranged for a welcome glass of the local Warstiener lager on the patio.
The Schutzenfest is an annual shooting contest, held on the Monday morning, to find the best shot in the town who is then the honorary mayor for the following year. Celebrations start on Saturday to mark the end of the reign of the previous year's Schutzenfest winner and continue until the Monday evening.
The festivities include parades through the village, Sunday church service (with parade) and festivities every evening in the town hall. The local band, assisted by those from neighbouring towns, provide the music both for the parades and the dancing.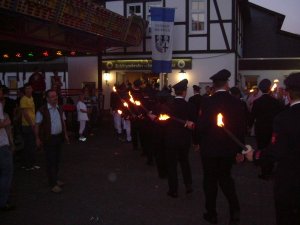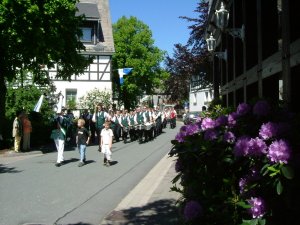 </p>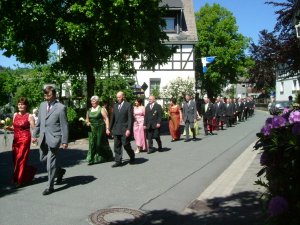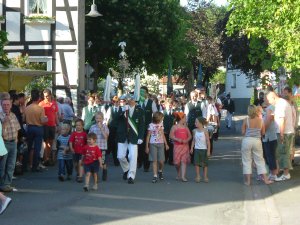 Not to be outdone by all this local partying Bob organised a "Waggon Ride" This basically comprises hitching up a trailer with benches and a table with holes for bottles to a tractor, provisioning it with beer and other local brews and then towing the trailer around the local countryside until supplies are exhausted.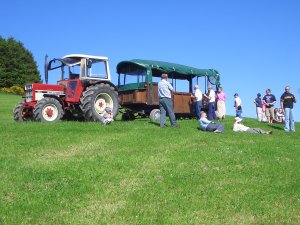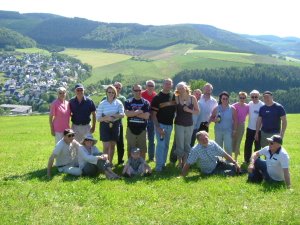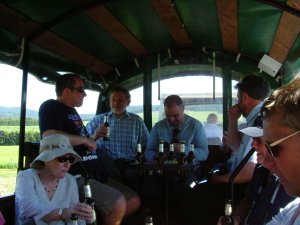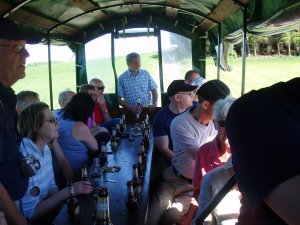 Bob had included in the rations some Radler (local bottled Shandy) which was distinguishable by it's yellow top. While this was intended for the ladies on the trip it was rapidly consumed by several gentlemen who became known as the "Shandy Boys".
In between all this hectic socialising we still managed several ride outs including a trip to the Mohne Dam.
No such event however would be complete without some candid shots of the visitors living up the the local's view of "the drunken British".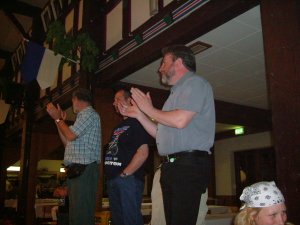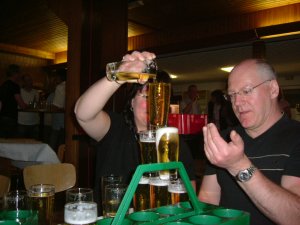 All too soon it was time to head back to Rotterdam with a stop off in Arnhem to see the museum and war graves.

For some this their first Bob Crawley holiday had all been just a bit too hectic and the ferry port could not come soon enough.........

Many thanks to Bob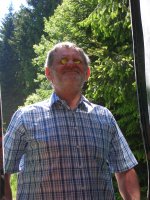 for another excellent holiday under the Bike Ecosse banner.
---

To return to the Buxley Homepage